"Mendaki dan menulis nasib di dada langit"
That was written at the back of our T-shirt. The phrase came from Zul Azlin (Alin), our psychiatrist, and a brilliant writer. The poetic words he always has, Google-translated into "Hiking and writing fate in the bosom of Heaven." Not bad, Google! The fate that we had, leaving some marks on our memory and heart (and on the skin too). It took me two months after we accomplished the trip to start writing about this, finally. The journey. The adventure. The epic story that we will remember for the rest of our lives.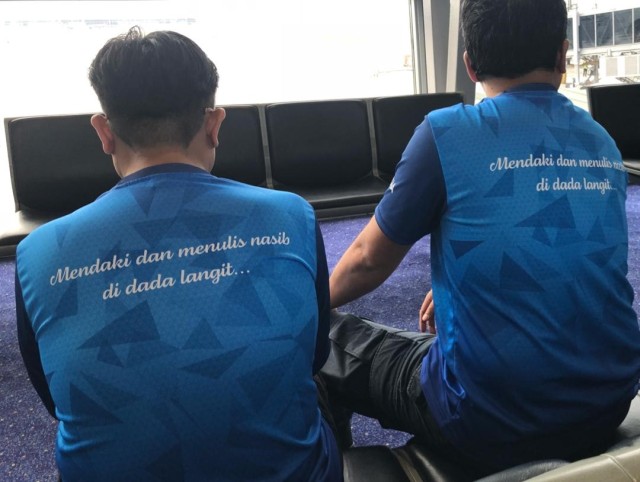 Some people may say we went for a mere leisure trip (riadah?). Well, you can put it in any way you like. But to us, due to the challenges and the struggles, I can proudly say it was an adventure (being proud to ourselves at most). I will tell you in a short while. But let me give you a bit of an introduction to our trip.
There were 7 of us. The plan came up when some of us (Dzul, Zatul, Alin and I) were in a program in Endau sometime in April 2019 with other colleagues Kak Su and Mila. Inspired by someone from that event who managed to complete her journey hiking in Nepal, we planned our first Himalayan trip too. A long story short, we arranged an organizer for our guide then we managed to bring our two Mr. Surgeons (Arief and Razrim) and my travel bestie, Fazila (Ila) imported from Anaest department of HRPZ II into this team. From April to October, so we had like 6 months to prepare ourselves mentally and physically. Sort of.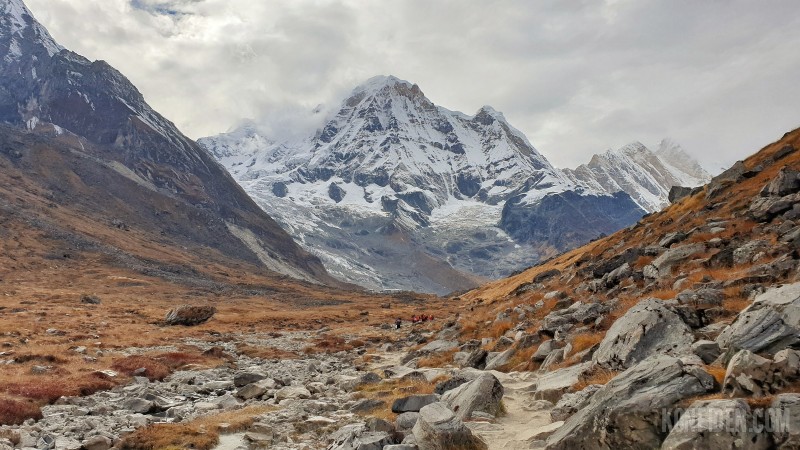 Mount Annapurna is the tenth highest mountain in the world. You may have heard the unfortunate incident that had happened to one Malaysian doctor who climbed the peak. That triggered worry and doubt of some people to our plan. We did not aim for the peak of Mount Annapurna at 8091m. Not our level (yet). It was the Annapurna basecamp (ABC) we were heading to, at 4013m above sea level. Mount Annapurna is less climbed compared to Everest as it is said to be more difficult and deadly too. Only about 50% of the attempted climbers succeed to reach Annapurna peak. When we returned, some people asked: did we see the Everest? No, we did not see the Mount Everest (But hey, I have fridge magnets of Everest though!). Mount Annapurna is at the northwest of Kathmandu, whereas, Everest is at the east, border of Nepal and Tibet. Nonetheless, ABC is one of the most beautiful tracks in the world and very popular among the local and international hikers.
From KLIA, we landed in Kathmandu and had a quick stroll around Thamel Street at Kathmandu city in the evening. Then the next day we took a bus of 7 hours ride to Pokhara. The following day, we started our journey by Jeep for 3 hours from Pokhara to Ghandruk. We set our gears and foot before we started our walk and climb. We had to walk for 3 days to the destination (the ABC) and another 3 days back to the city of Pokhara. The track to ABC involved walking through the lovely village of Chhomrong, Bamboo forest, valleys, and rivers, overlooking the Masha Allah majestic landscape of the Himalayan mountain range like Mount Hiunchuli, Mount Machhapuchhre, Gangapurna, Mount Annapurna I and III. (Watch the snippet of our journey in the video below).
Many people had been to ABC. We were not the first from Malaysia, so nothing to be proud of very much in that sense. During our 1st day of the hike, we met a group of friendly veteran Malaysians on their way back and the oldest in their group aged about 70s. So cool!! Being old does not equal to being dormant in the house. An active lifestyle is one way to delay or prevent dementia (more elaboration about dementia prevention later on – different time, Insya Allah)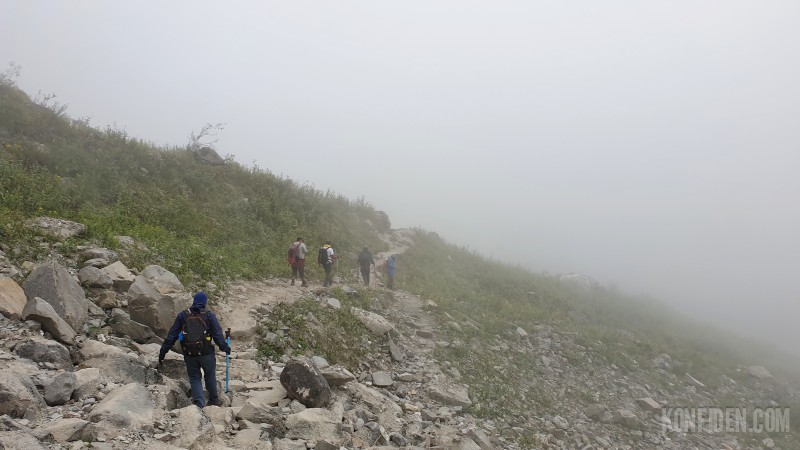 I must say, the highlights of this trip were overcoming the struggles (mental mostly), good teamwork and friendship, which can be applied in any part of our lives. It started when we formed the team, months before the actual day. I am so glad I had an awesome team for this adventure. The teamwork was not only for reaching the ABC and back, but also to the series of events that had happened in Nepal following that. The teamwork, patience, fun and cool friends had made the challenges and the struggle much more bearable.
So, what kind of challenges in this adventure?
1. Physical challenges
It was a physically demanding activity and testing our endurance. For someone like me who never had enough time (or rather a bit lazy) to have a good training regime for a multiday hike like this, for sure it was a challenge. Muscle pain, blisters, chest tightness, extreme fatigue, hypoxia, pounding heart, light-headedness… and the list goes on. Luckily, we had our porters in our package, so we did not have to carry all the heavy loads of the backpack. Despite that, we still needed to endure the 6-10 hours of 10-20 km of walking each day. Uphill and downhill. Uphill and downhill again. Nevertheless, all of us made it to the intended destination within the expected time. Alhamdulillah.
I promised myself to be stronger with better endurance for our next hiking trip.
Himalaya, we will be back!
2. Mental challenges
Mental torture it is, if you were comparing huffing and puffing, walking and climbing for the continuous hours to laying down on the comfortable sofa watching Netflix. The determination not to give up halfway and keep going was a struggle. I was much slower on day-2 onwards, most likely due to the elevation and the fatigue, and I kept wondering if I were able to make it. The ability to overcome the challenges, completing one step after another, seeing the beautiful landscape around us and the feeling of mountain breeze was the precious rewards we had for our lifetime. Dear adrenaline, you were totally worth it!
3. The Coldness
It already felt cold on the first night we stayed in a teahouse at Upper Shinuwa. The coldest night we had was at the Basecamp which I think the temperature may be around minus 6 or 8 degrees (or maybe minus 10??). It was a wonderful starry night at the Basecamp, but too bad, I could only enjoy the moment outside for 20 seconds or so before the chills started to creep into my bone. The tap water was freezingly cold and I believed my buccal capillaries had vasoconstricted from less than a minute of tooth brushing and caused numbness of my oral cavity. Five layers of clothing and jacket with a sleeping bag, a thick duvet and a few patches of hot packs from Daiso still could not beat the below freezing point of the mountain's coldness. Because of this, Razrim pointed out firmly that we needed to postpone our plan to Everest basecamp for another year. (Like we will ever be resistant to this kind of temperature in the next few years to come. Haha)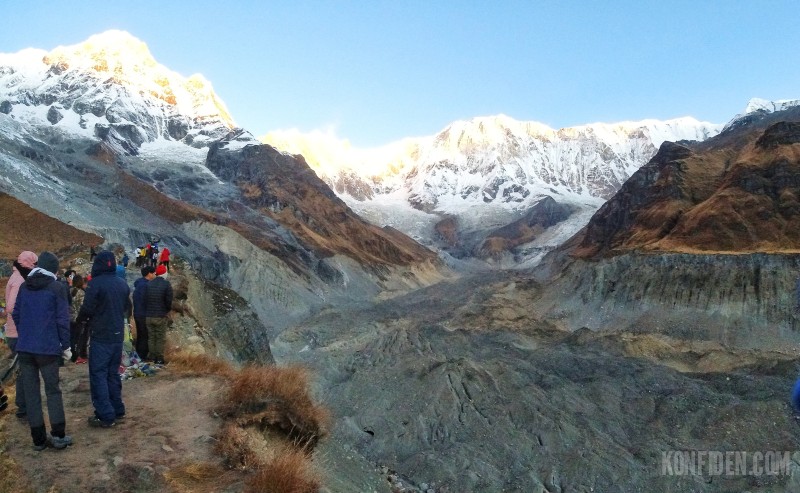 4. Acute mountain sickness (AMS)
This is the most feared condition when climbing at a high altitude of 2500m and more. The higher we go, the less oxygen in the air that we have for our lungs to breathe in. Sudden exposure to the low-level oxygen in the high altitude can contribute to some symptoms such as headache, bowel cramping, lethargy, nausea, trouble sleeping, worst it can cause cerebral edema and pulmonary edema (brain and lung filled with excess water).
My oxygen saturation (SPO2) dropped to around 60-70%. Normal oxygen saturation should be above 90%. (Dzul carried his small portable SPO2 machine on this trip. Yup. A very much doctors' trip, right). The tricks are: to have frequent rest, take plenty of fluid to prevent dehydration, and walk slowly! So, being slow is not a bad thing. This would help to acclimatize our body to the high altitude. AMS can happen to anyone even to the fittest person.
5. Sickness
Sickness also can happen anytime, wherever we are. But the last thing we want is being sick in the forest and a thousand miles from home. Gut infection is very common when we travel to places with uncertain sources of water and undetermined food hygiene. Cuts, wounds and blisters, chest infection and AMS symptoms are among other common sicknesses you will be at risk in this kind of high-altitude adventure. Therefore, good preparation is a must, to anticipate these problems the best we can. Standby medicine, travel insurance, and some precautions must be kept in mind before the trip. We prepared and shared a whole list of medicine: antihistamine, aquatab (water purification tablet), oral rehydration salt packets, steroids, acetazolamide, paracetamol, analgesics (painkillers), Myonal, Smecta, loperamide and a few more. (Yup. Again. A very much doctors' trip kann)
However, despite having all these medicines and some knowledge in the medical field, there was a certain thing that still beyond our control. The next best thing to do was to find a way out to get help. Did I mention that Dzul and I took a helicopter back from ABC to Pokhara? Yeahhh!! That saved us 3 days of a journey on foot. Smart eh?!
(See the video. Yes, we were inside that heli, I never knew it looked so cool from the ground until I saw the clip from Arief's footage collection.)
That, the heli thing, and the series of events that had happened in Nepal, I will tell the whole story at different times. Stay tuned.
----
Anda rasa artikel ini bermanfaat? Jom kongsikannya untuk kebaikan orang ramai.
Like & Follow Facebook
Konfiden
untuk kemaskini perkongsian informasi bermanfaat serta berfaedah.